Friday, July 27th, 2012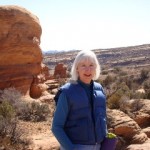 In July of 1998 I developed a pain in my left shoulder blade, which I thought was from pruning an overhead tree branch. My doctor and I treated it as a pulled muscle, but several months later, when I started coughing up blood, it was finally diagnosed as non‐small cell lung cancer, Stage IIIB, inoperable. I was terrified.
However, within a week of diagnosis, my husband Jonathan Holt Truex and I were at the Cancer Treatment Centers of America in Tulsa. I received 6 weeks of external beam radiation with concurrent low‐dose chemo (Taxol and carboplatin), followed by 5 rounds of monthly full‐dose chemo. By the end of treatment, my 7×8 cm tumor had shrunk to 2.5 cm, and 6 months after that, by the grace of God, it had shrunk away to a scar!
In celebration of my recovery, and in an attempt to bring more joy into my life, I began taking singing lessons and watercolor classes, and I became more involved in my church. My life was, and is, much richer than it had been before the cancer.
Then 10 years after my first lung cancer, I was diagnosed with a second one, Stage IA, also non‐small cell and also inoperable. It was considered to be a new primary because it was 10 years later and in the opposite lung. Again I had weeks of radiation (7 weeks of TomoTherapy this time) with concurrent low‐dose chemo (Taxol and carboplatin again), followed by 5 rounds of chemo (4 of Taxol and cisplatin this time, plus one of Alimta). Again, by the grace of God, I am in remission, with the nodule appearing much fainter and not growing.
In the course of diagnosing my second lung cancer, we became aware that the areas we had considered to be harmless scar tissue in my lungs might not be so harmless. Called 'ground glass opacities', these hazy areas have become the subject of considerable research recently. Apparently they can start growing and turn into malignant nodules after being inactive for many years. Now my pulmonologist measures each of my GGOs every time I have a CT scan, and we are currently watching one small but suspicious area.
However, during these 13 years, except when I have been in treatment, I have felt completely normal and have led an active lifestyle. My husband Holt and I travel,
hike, and walk our dogs. I now have a paralyzed vocal cord, so I have traded in
singing for playing the tambourine, but I still take watercolor classes and I'm still
active in my church. I also do volunteer work with cancer patients through the
American Cancer Society, and I talk to newly diagnosed lung cancer patients as a
Volunteer with the Bloch Cancer Foundation (http://blochcancer.org/) Hotline, the
Lung Cancer Alliance (http://www.lungcanceralliance.org/) Phone Buddy Program and the Cancer Treatment Centers of America (http://www.cancercenter.com/)
Patient‐to‐Patient Network.. I continue to have all my treatment and checkups at the Cancer Treatment Centers of America in Tulsa, and you might even see my Holt