Monday, May 28th, 2012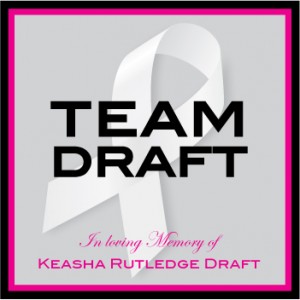 Sunday, May 13th would have been Keasha's 39th birthday.  Team Draft marked the occasion by kicking off a week-long bicoastal tour in support of our national campaign to change the face of lung cancer.  The tour took Team Draft to our 30th cancer treatment facility, to the set of Dancing With The Stars, and to Bank of America Stadium, home of the Carolina Panthers.  And none of this would have been possible without the generation support and donations of people like you.  Please help us continue the campaign by making a donation today: http://www.teamdraft.org/page/content/donate/
 Finding HOPE on the West Coast
 Team Draft began the tour in Southern California.  On Monday, we had the opportunity to sit down with the newly-appointed Director of Moores Cancer Center at UC San Diego, Dr. Scott Lippman.  And on Wednesday, Team Draft achieved a major milestone when we visited our 30th cancer treatment facility since launching the national campaign: USC's Norris Comprehensive Cancer Center. Thanks to cutting-edge research like that being performed at these state-of-the-art facilities, for the first time in decades, there is hope in the fight against lung cancer.
Applying revolutionary genomic approaches, researchers have now identified the molecular changes in certain genes that cause some lung cancer tumors to grow.  This discovery opens the door for the development of targeted drugs designed to stop tumor growth in its tracks by interfering with the growth receptors in these mutated genes.  These new targeted drug therapies are extending the lives of some patients by several months, and in some cases, even years.
The key to making even greater strides (and ultimately saving lives) is funding, but funding for lung cancer research is impacted by the stigma that it is a "smoker's disease."  The truth is, anybody can get lung cancer—a fact underscored on Thursday by the tragic death from lung cancer of disco legend Donna Summers, who was a non-smoker like Keasha.  That's why Team Draft is campaigning to change the face of lung cancer and to raise public awareness.  Thankfully, we are not alone.
Before leaving the West Coast, Team Draft visited the set of Dancing With The Stars to show our support for the show's lung cancer awareness efforts.  This season, DWTS Pros Jonathan Roberts and Anna Trebunskaya performed a tribute dance in honor their friend and fellow ballroom dancer, Julia Ivleva, who is in the middle of her own battle with Stage IV Lung Cancer.  Jonathan, Anna, and Julia embody the dance, smile, and live philosophy, and Team Draft thanks DWTS for helping to shine a light on lung cancer.
Raising AWARENESS on the East Coast
 After completing the West Coast leg of the tour, Team Draft headed to back to the East Coast.  We concluded the tour on Saturday by taking part in two events to raise awareness and funding for cancer research in Keasha's adopted hometown of Charlotte, North Carolina.
Team Draft began the day at Charlotte's Park Road Park where Chris addressed a crowd of lung cancer survivors, advocates, and supporters at The North Carolina Lung Cancer Partnership's inaugural Free to Breathe 5K and Rally. The event raised money for lung cancer research and advocacy.
After the Rally, Team Draft headed to Bank of America Stadium, home of the Carolina Panthers.  As a Panther's linebacker, Chris used to come to the Stadium to tackle opposing quarterbacks.  On Saturday, Team Draft was there to tackle cancer by participating in the Keep Pounding 5K Stadium Run in support of the Panther's Keep Pounding Fund and pediatric cancer research at Levine Children's Hospital.
Team Draft's national campaign to change the face of lung cancer would not be possible without support from people like you.  Your donation will help ensure that we can continue to raise public awareness of the true nature of the disease and increase the funding needed to tackle it. http://www.teamdraft.org/page/content/donate/
To learn more about Team Draft, share your story, and respond and donate, visit www.teamdraft.org.  You can follow the national campaign to change the face of lung cancer on our blog at www.thedraftreport.net, and don't forget to "Like" us on Facebook at facebook.com/TeamDraft.  teamdraft.org , and also chrisdraftfamilyfoundation.org