Saturday, September 22nd, 2012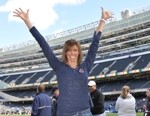 Seven months ago, I was diagnosed with Stage IV Lung Cancer. As a non-smoker, this came as a complete shock, surreal—impossibility. Many women in my family had battled breast cancer, including my mother, and it was always breast cancer that I feared was around the corner. In my mind, along with most of the population, lung cancer was a smokers' disease. I had watched my father, who smoked for over 40 years; lose his fight to lung cancer 13 years before my diagnosis. As it turns out, my cancer, which had spread to my adrenal gland, abdomen and chest and lymph nodes before it was discovered, was caused by a gene mutation (EGFR), something completely beyond my control. It had been growing, silently, for five to seven years before a common cough and a chest x-ray exposed a mass in my lung.
At 47, the news that I had inoperable and, according to the medical community, incurable cancer was devastating. As soon as my initial shock and depression could be forced aside, I decide that I would beat this disease. I would be the miracle patient, and I vowed to do everything within my power to fight for my life. I did extensive research in both western and holistic medicine. I selected an oncologist and began treatment at Northwestern with a daily oral chemo drug. At the same time, I volunteered to be part of a test group for a new experimental drug. At home, I purged my life of all carcinogenic chemicals, unnecessary dyes, fragrances and additives. I took steps to limit my exposure to unnecessary radiation. I overhauled my diet, completely eliminating sugar, meats and dairy, and moved to a primarily plant-based diet with an occasional fish. My oncologist thought all of these steps, especially my new diet, were unnecessary and possibly harmful, but when I returned for my first follow up CT Scan 6 weeks later, my tumors had shrunk by 30%–70%. The best ("stellar" was the word used) results my doctor had ever seen.