Thursday, April 25th, 2013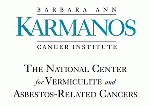 Gerold Bepler, M.D., Ph.D.
President and Chief Executive Officer
Gerold Bepler, M.D., Ph.D., is a world-renowned thoracic oncologist who has spent his career researching risks, progression, treatments and outcomes related to lung cancer, with a special focus on non-small cell lung cancer.
Dr. Bepler began his tenure as president and chief executive officer of the Barbara Ann Karmanos Cancer Institute in Detroit in February 2010. Karmanos is one of only 41 National Cancer Institute-designated, comprehensive cancer centers in the United States. In addition to his chief administrative duties, Dr. Bepler also serves as principal investigator of Karmanos' National Cancer Institute Comprehensive Cancer Center Support Grant; and associate dean of Cancer Programs, Wayne State University School of Medicine (WSU SOM).
Prior to coming to Karmanos, Dr. Bepler was director of the Comprehensive Lung Cancer Research Center; department chair of Thoracic Oncology; and program leader of the Lung Cancer Program at the Moffitt Cancer Center in Tampa, FL. He also served as professor of Medicine and Oncology at the University of South Florida. Prior to joining the Moffitt Cancer Center, Dr. Bepler was director of the Lung Cancer Program at Roswell Park Cancer Institute in Buffalo, NY. He also held positions at Duke University Hospital and Durham VA Medical Center.
Dr. Bepler has secured more than $45 million in cancer-related research funding since the mid-1980s. He has published more than 158 peer-reviewed articles, including articles in the New England Journal of Medicine, the Journal of Clinical Oncology and Cancer Research. His awards and recognitions are numerous and include an appointment to the Fleischner Society for Thoracic Imaging and Diagnosis (2012); the Moffitt Cancer Center's Scientist of the Year (2008), the American College of Physicians Information and Education Resource Editorial Consultant (2007 – 2008), and he served on the Journal of Clinical Oncology Editorial Board (2006 – 2008). He also holds eight patents.
Dr. Bepler is a native of Germany. He received his medical and doctorate degrees from the Philipps University School of Medicine and Dentistry in Marburg, Germany. His postdoctoral fellowships were completed at the National Cancer Institute, Philipps University and at Duke University Medical Center.
Dr. Bepler is married and has four children. He resides in Bloomfield Township, Michigan.