Friday, February 22nd, 2013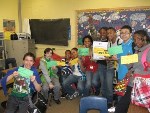 On the D.C. leg of Team Draft's East Coast nationwide tour, we met Montessa Lee of Silver Spring, Maryland.  In 2006, she experienced chest pain, followed by shortness of breath and a cough.  A non-smoker, the cause of her problem bewildered doctors, who ultimately diagnosed her following a chest x-ray that confirmed she had advanced small cell lung cancer.
From Self Magazine's Lung Cancer Report:
"Anyone who has lungs can get lung cancer," Montessa Lee stresses. She hopes her case will serve as a wake-up call for medical practition­ers to learn to look beyond their assumptions when making a diagnosis, which is why she recently completed training to speak at National Lung Cancer Partnership events. The organization's Look Deeper campaign aims to make women aware of the signs and prevalence of lung cancer—knowledge that, until better screens or a cure are discovered, is our most powerful weapon in fighting the disease.
Read more of Montessa's story at Self Magazine's website.
Montessa Lee, Lung cancer survivor from TEAM DRAFT on Vimeo.