Changing the Face of Lung Cancer: Keasha Rutledge Draft
Keasha Rutledge Draft
May 13, 1973 – December 27, 2011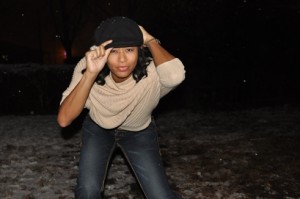 Lakeasha Monique Rutledge Draft passed away on Tuesday, December 27.  She courageously faced lung cancer, showing us all with every breath that we all need to hold onto life and love with both hands for as long as we can.  Not just an inspiration, but a light, and a force that led the way with a beautiful, sweet smile and bright shining eyes that both belied the pure steel of her strength and determination.
Strong is too pale, too shallow and too small of a word to describe Keasha's vibrancy… Quite simply, she was ferocious. She fiercely held onto life, and love with a forcefulness that was absolutely awe-inspiring and completely breathtaking. Rest in peace, Mrs. Draft.
A Celebration of Keasha Rutledge Draft's life will be held on Saturday, December 31st, 1pm at Calvary Baptist Church in Williamston, South Carolina.  She will be laid to rest following the Celebration at New Prospect Baptist Church.
In lieu of flowers, the family asks for support of Team Draft, the Chris Draft Family Foundation's tribute to Keasha.  Team Draft was created by Chris and Keasha during her year-long struggle with lung cancer in hopes that her valiant fight to live, love, laugh and smile will give hope and comfort to people across the world.  Chris and Keasha, the Draft and Rutledge families, friends and loved ones ask for your support, and love, and thank you for joining Team Draft… because it takes a Team to tackle cancer!
Donations to Team Draft can be made via the Chris Draft Family Foundation's website or via mail to the Foundation's Atlanta office.
Psalm 23
The LORD is my shepherd; I shall not want.
He maketh me to lie down in green pastures: he leadeth me beside the still waters.
He restoreth my soul: he leadeth me in the paths of righteousness for his name's sake.
Yea, though I walk through the valley of the shadow of death, I will fear no evil: for thou art with me; thy rod and thy staff they comfort me.
Thou preparest a table before me in the presence of mine enemies: thou anointest my head with oil; my cup runneth over.
Surely goodness and mercy shall follow me all the days of my life: and I will dwell in the house of the LORD for ever.
Tags: Changing the Face of Lung Cancer, lung cancer, Team Draft