A Survivor at Every Game: The Detroit Lions Support The Campaign to Change the Face of Lung Cancer During Lung Cancer Awareness Month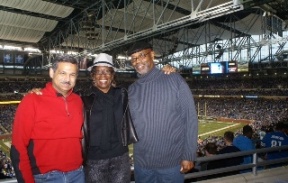 When you've never smoked, being told you have lung cancer comes as a shock. That was the case with Geraldine Carter two years ago when she received the devastating news – stage 4 lung cancer.
Carter had been fighting lung sarcoidosis for several years, a disease in which small patches of inflamed cells can appear on the lungs' small air sacs, breathing tubes or lymph nodes, causing her to cough. When her coughing persisted, she naturally thought it was the sarcoidosis. Her family encouraged her to see a pulmonologist, which she did. Test results showed Carter had a tumor on her lung and the pulmonologist recommended she see a lung cancer expert.
"When I was first told I had lung cancer, I was mad," said Carter. "I didn't want my husband Willie see how upset I was so I would get into the shower and just cry. Then, I'd say to myself, I had my pity party and now it's time to get on with it."
It was Nov. 2010 when Carter first met with Shirish M. Gadgeel, M.D., leader of the Thoracic Multidisciplinary Team at the Barbara Ann Karmanos Cancer Center in Detroit, Michigan. Carter's lung cancer had already spread to her lymph nodes.
"From the moment I met Dr. Gadgeel he didn't miss a beat," said Carter. "He never talks about how much time I have but instead focuses on me and how we're going to treat my disease. I knew immediately he was going to do the very best for me and he continues to do that."
Carter added, "When people hear you have lung cancer they assume you smoke and therefore you deserve your disease. I don't smoke. Anyone can get cancer. It's a disease, not a reflection of who you are."
Dr. Gadgeel explained there is a stigma associated with lung cancer and not everyone who is diagnosed with this disease smokes.
"Certainly, the best thing for your health is not to smoke or be around second-hand smoke which can also increase the risk of lung cancer," said Dr. Gadgeel.
"Many people who are diagnosed with lung cancer have never smoked. Mrs. Carter doesn't smoke and her mother who also had lung cancer didn't smoke. We must continue to build awareness and understanding about lung cancer. Early detection saves lives and supporting cancer research will help advance new therapies to treat this disease and other cancers."
Carter has been on different therapies since she was first diagnosed, including 20 rounds of radiation.
"It's been difficult at times due to the impact on your body but I'm not giving up," said Carter. "Every day is different and you need to listen to your body. I'm so grateful that my husband has been with me every step of the way, attending every appointment with me. The team at the Karmanos Cancer Center is so compassionate – they care about you and your family. They are dedicated and committed to doing all they can for each patient."
"Mrs. Carter is a gentle soul with a strong will to live," said Dr. Gadgeel. "I'm constantly inspired by her and all of our patients with metastasized disease who volunteer to go on clinical trials to help determine new therapies to advance cancer research. They teach us so much and their contribution to cancer research will continue to help other patients for decades to come."
The Karmanos Cancer Center is one of 41 National Cancer Institute-designated comprehensive cancer centers in the nation and one of only two in Michigan. It's world-renown Clinical Trials Program conducts 700 different trials at any given time, offering cancer patients ground-breaking treatments that can lead to better outcomes.
Thanks to the generosity of the Detroit Lions and the Chris Draft Family Foundation's Team Draft Changing the Face of Lung Cancer campaign, Carter, her husband Willie and her oncologist Dr. Gadgeel were invited to attend the Nov. 18 Detroit Lions vs. Green Bay Packers game at Ford Field in Detroit. The last time Carter attended a Detroit Lions game was three years earlier, before she was she was diagnosed with lung cancer.
The sold-out crowd and close scoring game electrified the stadium. An avid sports fan, Carter said her favorite player has to be Wide Receiver Calvin Johnson. Although the Detroit Lions lost the game by just a few points, they scored big with Carter, giving her the opportunity to enjoy life and experience another exciting Detroit Lions game – with her husband and physician by her side.
Carter expressed, "Cancer does not define you. I'm still the same person I was before I was diagnosed with lung cancer and I try to not let this disease stop me from living my life.
"You have to have hope. We never know what tomorrow will bring so we need to do what we can while we're here. We're put on this earth not to give in, but to give out."
Former NFL player Chris Draft is the founder, president, and CEO of the Chris Draft Family Foundation. Team Draft was created by Chris and his wife Keasha during Keasha's year-long struggle with lung cancer. Keasha, an energetic vibrant young woman who had never smoked, was diagnosed with stage IV lung cancer in December 2010. On November 27, 2011, standing side-by-side at their wedding, Chris and Keasha launched Team Draft. One month later, Keasha lost her courageous fight at the age of 38.
Team Draft is dedicated to raising lung cancer awareness and enhancing the importance of critical funding for lung cancer research by shattering the misconception that lung cancer is a "smoker's disease." Working with NFL teams and cancer centers across the country, Team Draft's National Campaign is Changing the Face of Lung Cancer! Repond and Donate Today 
BY: Patricia Ellis
Tags: CalvinJohnson, Changing the Face of Lung Cancer, Detroit Loins, Team Draft