Joseph (Joey) Lerner is Changing the Face of Lung Cancer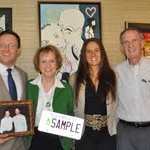 Everyone keeps telling me "There are no words." Even I didn't think I could find any worthy enough. Then, I imagined Joey's courage and further developed my own. If I could just have half of his, I knew I could collect my thoughts. I closed my eyes and felt him instantly after he passed. His presence lifted my own. Fearless, I listened to my heart and nothing else. I immediately began to write…
Years ago, Joey once wrote on his painting, "Boxers and artists are a lot alike. Artists paint pictures with paint like a boxer throws punches." Even then, Joey knew he was a fighter.
He was quiet. Some call it shy. We call it extraordinary. A man of few words but with a heart of verses. His silence was filled with pure goodness. And when he spoke, it was profound. We all listened in our own individual way. A family that heard his courageous fight. Together, we watched him- hiding his won struggle to prevent our own from overcoming us. We immersed ourselves in his grace, selflessness, strength, and deep love for us. He was relentless. And as he fought, our already strong family found a new meaning. The definition of family surpassed any human dictionary. W defined life, love, and unity through Joey. Without him saying a word, he taught us how to truly live- how to find strength when you think you have absolutely nothing left, how to truly be selfless, how to let petty differences disappear in the midst of what is important, and how to see someone's true soul regardless of their physical presence.
I have watched my immediate family through all of this. And finally towards the end, I learned to be still.  To sit and observe. I started to understand even more and recognized so many blessings. The bigger picture finally appeared, and my eyes became wide open.
I saw my brother, Mark,  pour every ounce of himself into our brother. Silently, I thanked him for helping keep it the three of us because I always had two older brothers. I was amazed by his devotion and promise to protect Joey. Selflessly, he stood by Joey's side through everything. He forgot himself completely, made Joey feel as if even the worst situation was "normal", and I immediately recognized the father Mark will be someday. Their bond was priceless. As our favorite nurse at MD Anderson always said, "Mark is your brother's keeper."
Then, I watched my mother. Everyday, she became even more of his best friend. Her strength humbled me even when she thought she didn't have any. Her endless sacrifice and comfort was immeasurable. She provided him more love and support than any mother could possibly give. Joey adored her and just felt "good" when she was around. Her presence was more potent than any medicine, and I know he lived for her as much as himself. She was angelic at his side at every moment, and I can only hope I can some day be half of the mother she is.
I also watched my father. He was present at all times. If anyone needed him, he was there with loyalty, support, and love. Holding his own tears, he stood before a family so afraid with his head held high. He wanted everyone to fell that we were in good hands as his own nervously shook.
I watched my Great Aunt Lucy miss Joey's presence. At 96, she needed him. Even when she couldn't speak, I saw her spirit weaken without him. They impacted each other's lives simultaneously and shared a rare connection. His gracious, generous, and uplifting way with Lucy added years to her life, and I am forever grateful for this.
I also watched my sister-in-law, Sara, provide support and understanding wherever she felt appropriate. I watched her own uncertainty of what to do and sympathized silently. She remained present and understanding of her husband's desire to protect his brother and family.
And lastly, I watched myself. I felt my growth. I saw myself remain still in the midst of chaos, speak from the heart, understand the true meaning of peace, and selflessly let go when it's time because I recognized new beginnings. I found my role- to understand Joey and his needs for comfort for himself and my family. I finally listened to what he had endured and what he desired, and I embraced our spoken and unspoken connection. My moments with him have changed my life, made me fearless, and given me new beliefs and meanings of what is important.
Even as Joey lay in bed and couldn't paint, he created a masterpiece. He painted our picture. My family dripped like the most illuminating colors imagined. Each of us a different shade! In silence, I sat with him and was so thankful that I took the time to watch this artist at work.
A hospital was no place for a soul like his. He is an angel- a son, a brother, a friend, a fighter, an artist. Humble in his talent, gracious with his heart, wealthy with his soul, wise in his silence, and authentic in his being. He lived as he painted, inspired as he fought, and loved with each stroke in his own special way. He created a masterpiece. He created a family. We were his canvas, yet he is the most extraordinary color we will ever see- a perfect hue!
Humbly,
Lauren B. Lerner