Charity Spotlight—Team Draft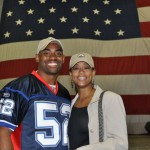 Ex-NFL linebacker Chris Draft knows about fighting for air, not due to smoking or a high altitude climb but because he lives with asthma that often landed him in the hospital. As much as he appreciated each breath during his football years, the fight behind it grew crystal clear when Keasha, his love at the time was diagnosed with stage IV cancer. She became the surprising face of lung cancer at age 37.
Keasha, once a Charlotte Hornets Honeybee dancer and a member of the Clemson University Rally Cat dance squad, struggled for breath and fought to dance, smile, and live even as her body weakened.
According to the CDC, more people die from lung cancer than any other type of cancer. Roughly 200,000 people are diagnosed with lung cancer yearly (tens of thousands of them never smoked) and about 150,000 die from the disease each year. Its virulence tends to cause death within months rather than years. That is why Keasha and Draft could no longer allow their busy schedules and other priorities to interfere with their relationship.
They met in 2006 when Draft played for the Carolina Panthers. He moved on to the Rams team in 2007 and the Bills a couple of years later, and then the Bears, which made time with Keasha periodic. Retirement from the Washington Redskins in 2010 finally brought them together full time. Soon Keasha would learn about her advanced lung cancer. Eight months after the diagnosis, Draft asked for her hand in marriage. He wanted to spend every remaining breath with her as husband and wife, be it a day or a second.
On November 27, 2011, they sat side by side to solidify their union and stood side by side to solidify their fight against lung cancer with the launch of Team Draft, dedicated to raising lung cancer awareness and increasing badly needed research funding by shattering misconceptions about lung cancer as strictly a "smoker's disease," self-inflicted by poor life choices. Keasha, who never smoked, died of lung cancer in December 2011 after just five weeks of marriage.
In February, Team Draft, under the Chris Draft Family Foundation, took its campaign national in honor of Keasha's courage during life. The organization issued a challenge to all current and former NFL players and fans to support the campaign by using social media to spread lung cancer awareness.
The website imparts trends in the prevention of lung cancer, the disease's prevalence and mortality, and emerging treatments. It is a place to share personal stories and upcoming events by the Draft foundation and numerous partner organizations.
"Our national campaign to change the face of lung cancer," said Draft, "gives us a frontline view of the state of lung cancer research and treatment in America. This is an exciting period in the history of lung cancer treatment. The use of state-of-the-art lung cancer screening techniques is reducing mortality rates by 20% in some groups, while cutting-edge, team-based multidisciplinary treatment procedures are improving the quality of life for lung cancer patients across the country.
"And," added Draft, "thanks to advances in molecular tumor mutation testing, researchers and treating physicians are developing effective personal lung cancer treatments designed to extend and ultimately save lives."
Early detection, as in the case of most cancers is critical. Symptoms may differ by individual or not appear at all. The more evident symptoms include shortness of breath, coughing that does not go away, coughing up blood, wheezing, chest pain, and repeated respiratory infections, such as bronchitis or pneumonia.
Better yet is lowering the risk of developing lung cancer by, as most Americans know, not smoking and by avoiding secondhand smoke. Less well known are the benefits of testing one's home for radon gas and ionizing radiation, then correcting any problems. The CDC also recommends avoiding asbestos and any unnecessary medical radiation to the chest. Experts say treating chronic lung diseases and infections, likewise, can help, as does recognizing the risk of lung cancer increases with age and informing doctors of relevant family medical history.
"The key to making even greater strides (and alternatively saving lives) is funding," concludes Draft, "but funding for lung cancer research is impacted by the "smoker's disease" stigma. That's why Team Draft is campaigning to change the face of lung cancer."
Lung cancer can develop in anyone. Draft has taken this message nationwide to primary schools, universities, TV interviews, and to NBA and NCAA dance teams. During his stop in Philadelphia, he visited patients at Children's Hospital and met members of the National Lung Cancer Partnership Pennsylvania chapter. He talked with students at the Philadelphia High School of Creative and Performing Arts about the importance of music and the use of music therapy to treat patients undergoing chemotherapy.
Similar stops were just made in Chicago and Northern California. Draft is now on route to the NFL's Rookie Symposium in Canton, Ohio where he will speak to the latest rookie class about being leaders on the field and in the community. Along the way, this week's schedule includes visits to Georgetown University's Lombardi Cancer Center in Washington, DC and the Roswell Park Cancer Center in Buffalo, New York. Such top cancer research treatment centers can look to Team Draft for a platform to reach more Americans, in addition to funding that extends their work.
Chris Draft wants the public to know that any success he has is not achieved alone. Respond and Donate Today
Courtesy of Gloria Blakely of the Philadelphia Charity Examiner