Mary Hendrix is Shining a Light on Lung Cancer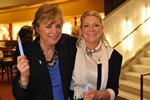 Only a few weeks ago, Turner Field was packed to its maximum 53,000-seat capacity as Atlanta Braves fans bade goodbye to their beloved third baseman, Chipper Jones.
On Tuesday evening, Nov. 13, the lights were on at Turner Field, but the seats were empty. The ballpark was bare to signify the number of people – 53,000 Americans– who, in the next four months alone, will lose their chances of ever sitting in those seats because they will die of lung cancer.
The event, called Shine a Light on Lung Cancer, was sponsored by the Lung Cancer Alliance, a national advocacy group. In fact, the group backs legislation – and encourages you to do so, too – that would reduce by half the number of lung cancer deaths in the U.S. by 2020.
Lung cancer is the nation's number one cancer killer, killing more men than prostate, colorectal and pancreatic cancers combined. It also is the number one cancer killer of women, killing more women than breast, cervical and ovarian cancers combined.
While all cancers faced stigma for decades, lung cancer advocates believe that stigma still continues to work against their cause today. They understand the reason – tobacco usage, which accounts for a large majority of new cases of lung cancer.
But as survivor Mary Hendrix, who is being treated at Winship, said, "the face of lung cancer should not be a cigarette. The face of lung cancer is people here in this room, mothers and fathers and sisters and brothers, and people who never smoked."
Hendrix explained that she is one of a growing number of Baby Boomers who smoked in their youth, quit and never gave it a second thought – until a routine exam decades later revealed a grape-sized tumor in her right lung.
There are tens of thousands of new cases of lung cancer like Hendrix's each year.
"Do we deserve this disease just because we made a bad choice decades ago?" Hendrix said.
Suresh Ramalingam, affectionately known throughout Winship as "Dr. Ram," gave a hopeful, inspiring talk to the group.
Since 2009, the Lung Cancer Mutation Consortium, of which he and Winship's world-renowned lung cancer investigator are co-leaders, have made major strides in unlocking lung cancer's secrets.
At different sites across the country, the LCMC collected specimens from more than 1,000 patients with lung adenocarcinoma and discovered that in 65 percent of them, "you can actually find a switch to turn that cancer off."
That's far from a cure, Dr. Ram explained, as cancer often finagles a way to turn the switch back on. But the point is that striking progress is being made. Dr. Ram also mentioned that when the first text on lung cancer was written more than a century ago, approximately 300 cases of lung cancer were documented worldwide.
"There is no reason we can't turn back the clock 200 years," Dr. Ram said. Of the empty seats in the stadium behind him, Dr. Ram said: "I can actually look at these seats and see faces of my patients.
Respond and Donate Today  as Team Draft leads a National Campaign to Changing the Face of Lung Cancer
Tags: Mary Hendrix, Team Draft. Changing the Face of Lung Cancer