Team Draft Brings our Campaign Against Lung Cancer to Jefferson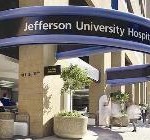 During 12 years as a linebacker in the NFL, Chris Draft faced lots of tough opponents.
But after losing his young wife to lung cancer last year, Draft is taking on the disease that will be diagnosed in an estimated 226,000 Americans this year. Like many of those who develop lung cancer Keasha Rutledge Draft never smoked.
Last week, Draft was at the Kimmel Cancer Center at Jefferson as part of his campaign to raise lung cancer awareness and increase research funding for the disease that takes the lives of more people than breast cancer, prostate cancer and colorectal cancer combined. So far, Draft has visited almost 50 cancer centers in the United States
Meeting with Richard G. Pestell, MD, PhD, director of Jefferson's Kimmel Cancer Center, oncologists Barbara Campling, MD, and Russell J. Schilder, MD, Draft emphasized the importance of the ongoing research into finding effective treatments for lung cancer.
And, meeting with patients at Jefferson, Draft noted that lung cancer sometimes gets overlooked by the public because it is so closely associated with smoking. But many lung cancer patients, like Keasha, were never smokers.
"If we can take away the stigma that says you have to be a smoker to get lung cancer, we have a real chance to educate people about the true nature of the disease," Draft said.
The specialists of Jefferson's Thoracic Oncology Program offer a collaborative, multidisciplinary approach to treatment that continually evaluates patients through the entire course of treatment. The Program is at the forefront of using new drugs and innovative combinations of radiation therapy, surgery and chemotherapy to improve the outcomes for patients with every type of lung cancer.
For those at high risk of developing lung cancer Jefferson offers a Lung Cancer Screening Program that provides a low-cost, one-day, state-of-the-art screening.
The Program is one of the first in the region aimed at increasing early detection rates and treatment outcomes and works in conjunction with Jefferson's Lung Nodule Clinic to evaluate those patients whose screening detects a "spot on the lung" or nodule.
Team Draft would like to say thanks to Jefferson for allowing our national campaign to come and see the work that is needed to Change the Face of Lung Cancer. Respond and Donate Today!
http://www.jeffersonhospital.org/The-Daily-Dose
Tags: Kimmel Cancer Center at Jefferson, lung cancer, Team Draft, Team Draft. Changing the Face of Lung Cancer