Team Draft, Indianapolis Colts and IU Health are Changing the Face of Lung Cancer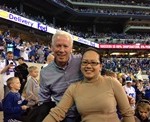 Just over three and half years ago, when Gregg Baumbaugh of Noblesville, Ind., came down with a runny nose and scratchy throat, a lung cancer diagnosis was the last thing he expected. But after antibiotics failed to clear a suspected case of pneumonia, a chest X-ray revealed a 5 cm tumor on his left lung and Gregg was diagnosed with non-small cell lung cancer (Adenocarcinoma).
Having never smoked, Gregg was shocked. Though it's a common misconception that lung cancer is a "smoker's disease," between 20,000-30,000 people who have never smoked are diagnosed in the United States each year.
Breaking the stigma against lung cancer and encouraging more research funding are two primary goals of the Chris Draft Family Foundation. As part of a national campaign to change the face of the disease, the Draft foundation invited lung cancer patients and physicians to NFL games across the country this fall.
On Dec. 30, as Indianapolis Colts Coach Chuck Pagano headed back to the field after battling a cancer diagnosis of his own, Gregg cheered on the team from the stands. He was also joined by Dr. DuyKhanh Ceppa, a thoracic surgeon and director of IU Health's lung cancer screening program.
Surgery and four rounds of chemotherapy treatment at IU Health – home to the state's only NCI- designated patient care cancer center – allowed Gregg to achieve remission for nearly three years. When a scan in August 2012 showed it had returned and spread into the other lung, he started a new regimen on Xalkori (crizotinb), an oral ALK (anaplastic lymphoma kinase) growth inhibitor following his daughter's wedding in September.
Roughly a month later, on Halloween, a new scan showed no detectable tumors. "I'm not sure his doctor didn't do a cartwheel in the hall," said Gregg's wife. "He was just beaming!"
Despite dramatic increases in overall cancer survival rates, the five-year survival rate for lung cancer is less than 25 percent – a rate that has changed very little since the 1970's. But recent research advancements are inspiring hope, said Dr. Ceppa.
For instance, lung cancer screening using low dose helical CT scans have been shown to reduce mortality rates by up to 20 percent in heavy smokers. And thanks to molecular tumor mutation testing, physicians are able to tailor chemotherapy regimens to specific mutations present in some lung cancers.
However, there remains a lot that needs to be investigated and discovered about lung cancer detection and treatment, which requires funding that is largely impacted by the "smoker's disease" stigma. For current and future lung cancer patients across the country, Team Draft and IU Health are campaigning to change the face of lung cancer.