Team Draft Keeps Pounding in Charlotte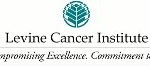 Team Draft travelled to Charlotte, North Carolina today—a city that holds a special place in our hearts.  Although born in Anderson, South Carolina, Charlotte was Keasha's adopted hometown before she moved to Atlanta to be with Chris.  And it is in Charlotte where Chris and Keahsa first met and fell in love.  At the time, Chris was playing for the Carolina Panthers and Keasha was working for Sanofi-Aventis Pharmaceuticals.
Team Draft came to Charlotte to visit the Levine Cancer Institute (LCI) at Carolinas Medical Center.  Team Draft toured LCI and met with hospital administrators, doctors, and staff members in support of our  efforts to promote cancer awareness, research, and scholarship, and to improve the patient treatment experience by identifying and promoting best practices.
As one of the newest cancer centers in the country, LCI is revolutionizing the cancer treatment model by redefining the traditional cancer center.  Traditionally, cancer care services are centralized on flagship campuses, but LCI is taking the opposite approach, offering compassionate, state-of-the-art  care to patients at facilities throughout both North and South Carolina.  By eliminating natural distance barriers between cancer centers, LCI is giving patients the home field advantage in their fight against cancer.
Respond and donate at TeamDraft.org.
Derek Raghavan, M.D., Ph.D, Levine Cancer Institute in Charlotte, NC from TEAM DRAFT on Vimeo.
Tags: Changing the Face of Lung Cancer, Keasha Rutledge Draft, lung cancer, Tackling Lung Cancer, Team Draft