The Birth of "Illuminate the Falls for Lung Cancer Awareness"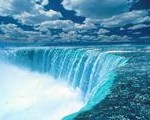 A year ago I was watching football as I normally do on Sunday afternoons. During the half time show a mention was made about the Buffalo Bills doing an illumination of Niagara Falls in pink for breast cancer. I got thinking about all the press and publicity that breast cancer gets and I got a little jealous and a lot motivated.
Hey if the Buffalo Bills can do this for breast cancer, why can't I, along with my Make Some Noise for Lung Cancer Awareness do this for LUNG CANCER. Never one to back away from a decent challenge I set out to make this happen.
I had no idea who to call and no idea how this would ever come to be but my mind was made up and
my heart was set on this. So I began composing my thoughts and writing my pitch and compiling Lung
Cancer facts and information to back up the intense need for raising awareness.
I sent my requests off and actually never dared to dream I would ever hear anything back. I really
figured that this would be filed in that infamous circular file, or lost in transit between offices etc. I had
actually moved on and almost forgotten about the request completely!
Early in October I got "THE CALL". When I heard the gentleman on the other end telling me he was
calling in regard to my request to illuminate the Falls in white for lung cancer I was so afraid he was
going to tell me it was not possible. Much to my amazement he told me just the opposite. I wish I had
words to describe the feeling of sheer amazement that came over me! Next we needed a date. I was
in the car, I had no calendar with me and was trying to envision the month ahead. Finally we decided on
November 16. The 16th happened to be a Wednesday that year, mid week. It was also, coincidentally
mid month exactly if you looked at the calendar! It felt perfect to me and so the date was set!
I had just over ONE month to get the details in place, get the word out about this event, contact press
and get some publicity! I came home and got to work. Facebook is a hugely useful social media outlet
for things like this and I set up an Event page and began to post about it on my personal page as well
as the Make Some Noise for Lung Cancer Awareness page. Soon the newsfeed was full of people and
organizations sharing the information and details of the event. I have to say, being one person behind
the MSN4LC page as well as the only person behind this monumental event it was overwhelming~!
November 16, 2011. I was at the falls, on the American Side. I can tell you that there is not a feeling in
the world that compares to seeing those beautiful Falls lit up in ANY colors, but when those lights went
to pure white? Simply Breathtaking.
Again this year, November 16, 2012, from 8-8:15pm and again from 9-9:15pm the Falls will again be lit
in pure white light to raise awareness for Lung Cancer. This is the second annual Illuminate the Falls for
Lung Cancer Awareness made possible by Make Some Noise for Lung Cancer Awareness.
Donate Today as Team Draft's leads a National Campaign to Changing the Face of Lung Cancer
Tags: Buffalo Bills, Christine Dwyer, Team Draft. Changing the Face of Lung Cancer