A Survivor at Every Game: The Carolina Panthers Support The Campaign to Change the Face of Lung Cancer During Lung Cancer Awareness Month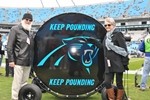 Tomma Hargraves was first diagnosed with Stage III B Non-small cell lung cancer in November of 2006.  After undergoing an aggressive clinical trial at the NC Cancer Hospital in Chapel Hill, she was in remission for 3 years.  At that time, she had a recurrence with lymph node involvement and a brain lesion.  Again, treatment was successful and she recently celebrated her 6th year of survivorship.
Ms. Hargraves has been active in lung cancer advocacy for nearly 6 years, and currently serves on the Board of Directors of the North Carolina Lung Cancer Partnership and on advisory boards for Access TLC and the Carolina Well program.  She is an active participant in the Free to Breathe 5K event as well as the Free to Breathe golf tournament.
Tomma Hargraves is the Lead Speech-Language Pathologist for the Wake County Public School System in Raleigh, North Carolina.  She received her Bachelor's Degree from the University of Washington and her Master's from Southern Connecticut State University.
Ms. Hargraves has one son who is an Emergency Medicine physician at Piedmont Hospital in Atlanta, Georgia, and is married to "Santa" Bob Hargraves.  They live in Raleigh with Finley the Wonder Dog. Respond and Donate Today as Team Draft's National Campaign is Changing the Face of Lung Cancer !
Tags: Carolina Panthers, Team Draft. Changing the Face of Lung Cancer, Tomma Hargraves