Georgia Becomes the First State to Create Lung Cancer License Plate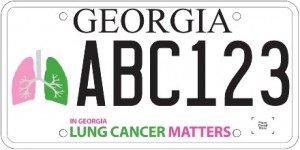 ATLANTA (CBS ATLANTA) – Jackie Archer and former NFL player Chris Draft stood next to Gov. Nathan Deal as he signed into law a bill that calls for the creation of a Lung Cancer Awareness license plate.
"I honestly didn't think that I would be alive to see this happen, but I am," Archer said as she fought back tears. Archer is a lung cancer survivor. Doctors discovered it in 2005 after she was involved in a car accident.
"My accident saved my life," said Archer. To this day doctors do not know how Archer got lung cancer because she never smoked and neither did her parents. "The whole stigma that lung cancer is a smokers disease, we are changing that stigma," said Archer.
Draft, who also played for the Atlanta Falcons, is also helping to change that stigma. His wife lost her battled to lung cancer exactly one month after their wedding. Keasha Rutledge Draft was only 38. She was another non-smoker diagnosed with the deadly disease. Draft held a picture of Keasha while the governor signed the lung cancer license plate into law.
"This plate doesn't just say lung cancer matters, but it really allows somebody to feel like they matter and fighting against it with family and friends who are right there with them," said Draft. Draft was there for his wife and although she's gone, he is still fighting to bring awareness. He said that's why it was important for him to be there when Georgia became the first state in the country to have a lung cancer license plate. "By having the plate and increasing the awareness people will understand how important it is and do something about it," said Draft. Respond and Donate

Tags: Changing the Face of Lung Cancer, Georgia Matters, Tackling Lung Cancer, Team Draft