Vanderbilt-Ingram is Tackling Lung Cancer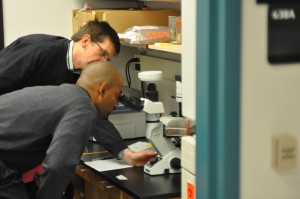 Lung cancer is the number one cancer killer in the country.  It kills more people than breast, prostate, colon, liver, kidney, and melanoma  cancer combined.  While these facts may be disheartening, there is hope.  Team Draft took a trip to Vanderbilt-Ingram Cancer Center to meet with Dr. Pierre Massion, Ingram Associate Professor of Medicine and Cancer Biology, to learn how advancements in early detection and treatment are saving extending lives.
Thanks to the dedication and commitment of researchers and treating physicians like Dr. Massion and his colleagues at Vanderbilt-Ingram, we now have a mechanism to detect  lung cancer early, which dramatically increases the survival rate for lung cancer patients.  By submitting high-risk patients to regular spiral CT scans and CAT scans, doctors have decreased the mortality rate by 20%.
Vanderbilt-Ingram and the other members of the 14-hospital Lung Cancer Mutation Consortium (LCMC) are also revolutionizing the way lung cancer is treated by promoting molecular tumor mutation testing for lung cancer patients.  It is through such testing performed at Vanderbilt-Ingram that Keasha's particular mutation was identified.  Molecular testing is one of the keys to developing effective personalized lung cancer treatments.  As a result of these efforts, the LCMC has already developed targeted drugs aimed at two of the mutations known to cause lung cancer.  These drugs are extending the lives of some patients by as much as 10 months.
Although there has been significant progress over the last decade, more funding is necessary to maintain the momentum.  Team Draft is dedicated to raising lung cancer awareness and increasing badly needed research funding by changing the face of lung cancer, but it takes a team to tackle cancer, and we need your help.  Respond and Donate
Dr. Pierre Massion, Vanderbilt University from TEAM DRAFT on Vimeo.
Tags: Changing the Face of Lung Cancer, lung cancer, national lung cancer partnership, Tackling Lung Cancer, Team Draft