Friday, June 22nd, 2012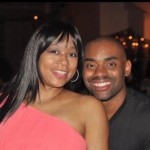 Linebacker Chris Draft tackled tough for several NFL teams—and played to win. But, when the Redskins released him in 2010, he faced an opponent he couldn't beat.
His fiancée, Keasha, who had never smoked, had stage four lung cancer.
Last November, chronicled in a poignant video that went viral, the two got married. With a beautiful white dress and an oxygen tank, Keasha walked the final few steps, and she and Chris exchanged vows.
Exactly one month later, Keasha died. She was 38.
Now Draft is a man on a mission, meeting with lung cancer groups and lobbying Congress to pass the "Lung Cancer Mortality Reduction Act," which calls for the government to come up with a plan to cut lung cancer deaths in half by 2020.
This year alone, 160,000 Americans will die of lung cancer—by far the biggest cancer killer of all.
Even though smoking is the number one cause, the lung cancer alliance says the 60 percent of new lung cancer cases are people who quit—many decades ago—and 20 percent never smoked.