Tuesday, November 20th, 2012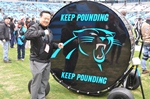 Nationally Recognized Cancer Experts Join Levine Cancer Institute
"A CANCER INSTITUTE WITHOUT WALLS." THIS IS THE PLEDGE OF CAROLINAS HealthCare System's (CHS) Levine Cancer Institute to the community—to bring world-class cancer care closer to home.
"The Institute is working to define the future of cancer care—where innovations in research and treatment are brought closer to home for patients to improve outcomes and quality of life," says the Institute's President, Derek Raghavan, MD, PhD.
While there are many integral components to building a leading cancer program, one of the key pieces is being able to offer patients access to the latest research and treatment options. To help fulfill this mission, the Institute has brought on board several nationally recognized cancer experts.
Edward S. Kim, MD
Joining the Institute from the University of Texas MD Anderson Cancer Center is Edward S. Kim, MD, who will serve as chair of the Department of Solid Tumor Oncology and Investigational Therapeutics. Dr. Kim is recognized as a national leader in molecular prognostication for lung cancer and specializes in thoracic oncology and head and neck cancers. In his previous role as professor and oncologist at MD Anderson, he also served as the center's principal investigator for Southwest Oncology Group, one of the largest of the National Cancer Institute-supported cancer clinical trials cooperative groups. Named a top physician by U.S. News & World Report, Dr. Kim received his medical degree from Northwestern University through the Honors Program in Medical Education. He completed his residency at Baylor College of Medicine in Houston, TX, and a medical oncology fellowship at MD Anderson.
Donate Today as Team Draft's leads a National Campaign to Changing the Face of Lung Cancer
Edward Kim, MD, Levine Cancer Institute in Charlotte, North Carolina from TEAM DRAFT on Vimeo.